Our team
We are a team of four persons at DutchCulture | TransArtists, working part-time, supported by the rest of the staff of DutchCulture:
Bojana Panevska
TransArtists workshop & Education programs
Main editor Transartists.org and Station to Station
                                                     
Bojana Panevska is a researcher and writer; she holds a bachelor's degree in Audio and Visual Art from the Gerrit Rietveld Academie and a Master's degree in Fine Arts from the Sandberg Institute, both in Amsterdam. Her research work has been published in a variety of journals and books in Europe and the USA. In addition, she has over 15 years experience of working internationally in the cultural sector, with a focus on strengthening the position of artists in society and freedom of expression. Bojana is a board member of On-the-move, cultural mobility information network with 50+ members in over 20 countries across Europe and internationally, and she is part of the Advisory Board of TransCultural Exchange - a non-profit organization based in Boston, with a mission to foster a greater understanding of world cultures through high-quality art projects, cultural exchanges, and educational programming.
---
Arda van Tiggelen
temporarily replacing Bojana Panevska as of July 2021

 
Arda van Tiggelen is a Dutch independent curator. With a background in art history (University of Amsterdam), Arda specializes in commissioning emerging contemporary visual artists to make new, site-specific works. Previously she worked at the Amsterdam exhibition space W139; at Documenta 14 in Kassel, Germany (2017); and at a local art initiative VHDG in Leeuwarden, Friesland. There, she shaped the exhibition and artist-in-residence program during and after the city's European Cultural Capital year in 2018, as well as initiating international collaboration projects with partners in Poland and Hungary. Alongside her role at TransArtists, she is currently developing a future project: a travelling artist-in-residence through Siberia.
  
---
Heidi Vogels
AiR Platform NL coordinator


Heidi Vogels is a visual artist and filmmaker. he works in long term research-based projects and is currently in the final stages of realizing a documentary film in Fez, Morocco. She is also the coordinator of AIR Platform NL since its beginning. TransArtists' AIR Platform NL is a platform for the mutual exchange of information and experience between AIR organisations in the Netherlands and Flanders, connects AiR initiatives with (international) networks and platforms, and offers practical advice concerning AIR programs to art professionals, funders and policymakers. www.heidivogels.nl
---
Lotte Geeven
Advice for artists
Lotte Geeven is a multimedia artist. Her role in service of her artistic project is chameleon like. If needed she is an anthropologist, geologist, thief, speculator or salesperson. Her work was shown in several museums and galleries in New York, Berlin, London, China, Japan , Indonesia and Canada. In 2010 Geeven was awarded with the Illy Prize, a prize for most innovative artist. In addition, Lotte brings her experience and expertise to the team of TransArtists. www.geeven.nl
---

Dicle Gülşahin
Database & Website
Dicle Gülşahin holds a Bachelor's degree in Public Administration from Yeditepe University and a Master's degree in arts and cultural management from the University of Bologna. She works as a cultural manager and is experienced in cultural policy, strategy development, festivals and content management. She supports the TransArtists team with working on the database and creating content for the website and social media.
---

Marjolein van Bommel
Head of the Mobility & Advice team
​​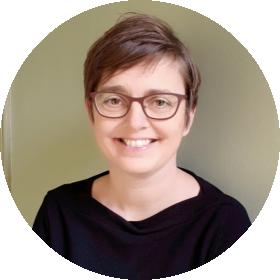 After working as managing director in the performing arts field, Marjolein joined DutchCulture as the head of the Mobility & Advice team, which includes TransArtists, the   Mobility Info Point and two programmes financed by the European Union: Creative Europe and Europe for Citizens. What inspires her is the wide range of provisions and opportunities enabling Dutch artists and cultural organisations to collaborate internationally – residencies, European collaborations, mobility financing, etc. Marjolein is also a board member at Assitej NL, a world-wide network for the youth performing arts.
---
To contact us, please look at the contact page.
---
TransArtists founder: Maria Tuerlings
Maria is the founder of TransArtists. She started TransArtists in 1997 aiming to help artists by creating the first information platform for artists on artist-in-residence opportunities worldwide. Residencies become more and more known and important to artists as a way to develop, create, produce and research their work. Now they are intrinsic to many artists careers.
Maria participated actively in many artists residency networks, she was Secretary of the board of Res Artis (2000-2007) and President of the Board in 2007 and 2008.
She coordinated the Dutch participation in the Pépinières Européennes pour Jeunes Artistes programs, and she is advisory board member of TransCultural Exchange (USA); board member and President of On-the-Move; and board member of the Thami Mnyele Foundation, which runs a guest studio program for artists from African countries in Amsterdam.
From 2008 through 2014, she was member of several European Open Method of Coordination (OMC) and expert groups on "Improving the conditions for the mobility of artists and other professionals in the culture field." The OMC theme for 2013-2014 was "Residencies.". Maria co/chaired this OMC with Yvette Vaughn Jones of Visiting Arts (United Kingdom).
Maria stepped down from DutchCulture | TransArtists per june 1st 2015 and will continue as independent advisor-consultant.
---
Thanks!
We couldn't have done as much over the years without amazing staff. We would like to very warmly thank Marie Fol, Léon Kruijswijk, Erik Hagoort, Mareile Zuber, Yasmine Ostendorf, Denise Meijsing, Paola Pistone, Yeb Wiersma, Yuko Kotera, Ellen de Rijk, Peter Hey, Ragna Slingerland, Rutger Emmelkamp, Dave van de Sande, Leoni Bouwmans, Adri de Visser, Thomas van Aalten, Denise Hammer, Rian van Rijsbergen, Mirjam Beerman, Lonneke de la Mar.
As important, we want to thank in-house researchers, interns and volunteers who have given us invaluable help: Maëlys Moreau (2016),  Amanda Schwalm (2015), Sandy Tu (2014), Eduardo Munoz Pozo (2014), Josje Hattink (2014), Nora Campfens (2014), Meagan Hughes (2013/2014), Agnese Slisane (2012), Toni Subira (2012), Mami Odai (2009), Jana Kukainen (2007), Chris Meighan (2007), Frans Teunisse (2007), RijkeTheunissen (2006), A. Wouda (2006), Lisa Russelman (2004), Jonna Vis (2002)